What is Horny goat Weed Extract?
Epimedium, known as Horny Goat Weed, is an erectile aid and aphrodisiac used inTraditional Chinese Medicine that just so happens to also increase testosterone in research animals (has not been looked at in humans).May also be a cognitive booster and heart health agent.
Epimedium is a pungent ornamental herb found in Asia and the Mediterranean.The Chinese call it Yin Yang Huo, which loosely means "licentious goat plant." Legend has it that the name horny goat weed came from a herder who noticed his goats becoming more sexually active after eating the plant.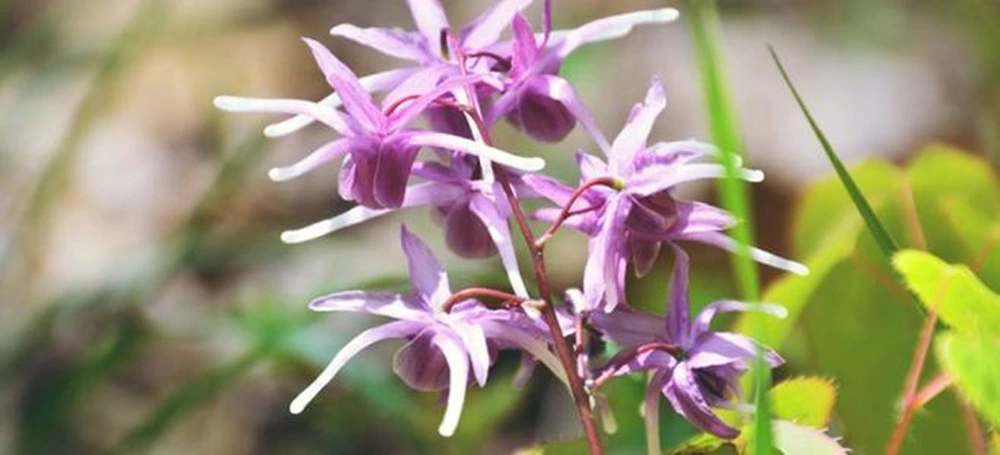 Horny Goat Weed is a common name for the plant genus of Epimedium from the family Berberidaceae.When sold as a supplement, they are standardized for their Icariin content, which is seen as the active ingredient.
Icariin is a flavonol glycoside, a type of flavonoid.It is the 8-prenyl derivative of kaempferol 3,7-O-diglucoside.The compound is derived from several species of plants belonging to the genus Epimedium, Berberidaceae, which are commonly known as Horny Goat Weed or Yin Yang Huo.Extracts from these plants are reputed to produce aphrodisiaceffects, and are commonly used in Chinese herbal medicine to enhance erectile function,as well as for several other indications.

Product description:
| | |
| --- | --- |
| Product name | Epimedium Extract,Horny Goat Weed Extract |
| Variety: | Goat weed exract |
| Part | Leaf |
| Active ingredient | Icariin/ Icariins |
| Appearance: | Light green to Yellow brown powder |
| Specification: | 5%-98% |
| Test method | HPLC |
| Extraction type | Solvent extraction |


Main health benefits of Horny goat weed Extract
The most common uses of epimedium in modern herbal medicine are due to icariin, which primarily affects sexual function in men.The phytoestrogens in epimedium also support bone health and menopause.
1.Epimedium Extract Enhances sexual functions traditionally, and researches show that icariin can enhance erectile functions.
2.Epimedium Extract Benefits kidneys and removes rheumatisms
3.Epimedium Extract Prevents osteoporosis
4.Epimedium Extract Prevents menopause and high blood pressure
5.Epimedium Extract Strengthens the immunity ability
6.Epimedium Extract Increases coronal pulse flowing, and accelerates spermatic fluid.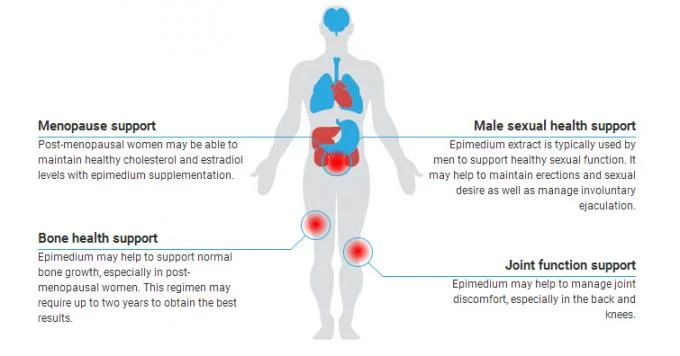 Applications of Horny goat weed Extract
1.Food field, it is mainly used as food additives, it also can be added into many kinds of product
2.Health product field, it has good effect for cardiovascular diseases and cancer
3.Pharmaceutical field, it is mainly used as pharmaceutical materail to treat asthenia of
Kidney, impotence, spermatorrhea, prospermia, cold extremities, acroanesthesia or convulsion.


Signs You May Need Epimedium
Sexual problems such as erectile dysfunction and low desire are the most significant signs that a man may need Epimedium.Post-menopausal women may also benefit from epimedium, especially if they have low bone mass or an unhealthy level of estradiol.Men and women may benefit from epimedium if they have discomfort from chronic joint conditions.Additional signs that you may need epimedium include fatigue, unhealthy blood pressure and breathing difficulties.

Packages and storage of Epimedium Extract

Package: 1kg/bag, 25kgs/paper drum or according to your request.
Storage: In Tight, Light-resistant and Dry Place. Avoid Direct Sunshine.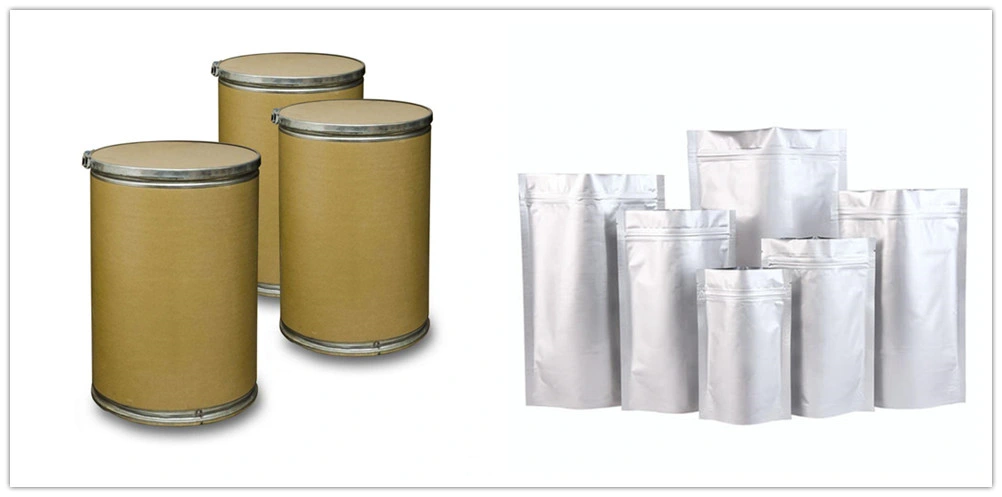 Our Company