Grape Seed Extract
of
Hunan Sunful

l Bio-tech Co., Ltd.
Latin Name:
Vitis vinifera
Family:
Vitaceae
Part of the Plant Used:
Seed
Active Ingredients:
Proanthocyanidins, Polyphenols
Product Specification
95% Proanthocyanidins (UV-VIS)
80%Polyphenols
(
Water-soluble)
Different specs available
Molecular Structure of Active Ingredients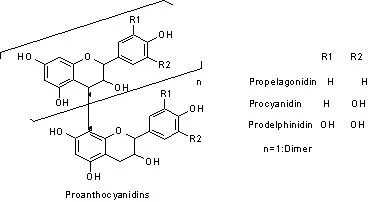 Product Introduction
As its name implies, grape seed extract is derived from the small seeds (and occasionally the skins) of red grapes--the same kind that are pressed to make wine. Used extensively in Europe, grape seed extract is rich in flavonoids, phytochemicals with antioxidant capacity which is considered to be even greater than the old standbys vitamin C and vitamin E. Antioxidants are believed to be able to prevent and control numerous ailments by safeguarding cells against the ravages of unstable oxygen molecules called free radicals.
Physiological Functions
1. Preventing heart disease
2. Anticancer
3. Treating skin diseases such as psoriasis and eczema
4. Slowing down progression of macular degeneration and cataracts
Applications
1. Pharmaceutical stuff
2. Functional food and food additive
Company Introduction
HUNAN SUNFULL BIO-TECH Co., Ltd., certified with ISO9001, ISO22000, Kosher, HALAL & HACCP, and specialized in the R&D, production and marketing of high value green tea and botanical extracts for dietary supplement, beverages, cosmetics & pharmaceuticals. We're the global leading manufacturer of green tea EGCG, (-)-Epicatechin, L-theanine, Theaflavins & Tea Polysacchrides. Our key botanical extracts including Aronia extract, Broccoli extract (Sulforaphane), Ginseng extract, Luo han guo extract, Maca extract, Milk thistle extract, etc. And many APIs (Amygdalin, Magnolol, Polydatin, Resveratrol, Sanguinarine, Swertiamarin, etc. ) Our products have been enjoying great popularity in the world markets due to their superior quality and competitive prices. SUNFULL also has becoming the 1st choice of natural ingredientsto many global famous enterprises and their most important strategic partner in China.