Grape Seed Extract
Botanical Source: Vitis vinifera L.
Part Used: Seed
CAS No.: 84929-27-1
Appearance: Red-brown fine powder
Specifications: Polyphenols 95%
Proanthocyanidins OPC 95%, 98%
Main Chemical Composition of Grape Seed Extract
The major functional composition in grape is grape polyphenol including proanthocyanidins. Besides, there are some other ingredients, like glucose, fructose, sucrose, xylose, tartaric acid, oxalic acid, citric acid, malic acid and single glucoside & glucobioside of all kinds of anthocyanidin.
Polyphenols
There are mainly 4 kinds of polyphenol substances in grape: Tannin, anthocyanidin, phenolic acid and flavonoids. The vital polyphenols in grape is the same kind as flavonoids type, including flavane-3, 4-diol, flavonoids tannin, flavonoids, flavonol, flavanol, chalcone and anthocyadin, etc. Anthocyanidins in grape are mainly as anthocyanin, methyle anthocyanin, petunidin, malvin and dephinidin, existing in common by dimmer or bigger molecule. The composition of flavonol kind in grape is major for quercetin in ordinary form. Proanthocyanidins are major ingredients in grape seed & grape skin, also the most kind in polyphenol content, mainly existing by dimer or polymer form.
Functions:
Antioxidant Effect
The antioxidant capacity of Grape Seed ( skin ) Extract comes from proanthocyanidins ( OPCs ). With an antioxidant power 20 times stronger than Vitamin C and 50 times stronger than Vitamin E, OPCs is known as a powerful antioxidant to neutralize free radicals, which play a major role in degenerative diseases, cardiovascular diseases, impaired vision, sun damage and premature aging.
Product Name
Grape Seed Extract
Botanical Source
Vitis vinifera L
Batch Quantity
1075kgs
Plant Parts Used
Seed,100% Natural
Country of Origin
China
Type of Products
Standard Extract
Active Ingredient Markers
Proanthocyanidins
Analysis Items
Specifications
Results
Methods used
Identification
Positive
Conforms
TLC
Appearance
Fine Reddish Brown Powder
Conforms
Visual test
Odor & Taste
Characteristic, Astringent & Bitter
Conforms
Organoleptic test
Bulk Density
35-55g/100ml
Conforms
ASTM D1895B
Particle Size
NLT 98% through 80 Mesh
Conforms
AOAC 973.03
Solubility
Good solubility in Water
Conforms
Visual
Assay
NLT 95% Proanthocyanidins
95.61%
UV(Beta-smith)
Extract ratio
about 25:1
24.6:1
seed to dry extract, W/W
Loss on Drying
NMT 5.0%
3.70%
5g /105ºC /2hrs
Ash Content
NMT 5.0%
1.70%
2g /525ºC /3hrs
Extract Solvents
Ethanol & Water
Conforms
/
Solvent Residues
NMT 0.01%
Conforms
GC
Heavy Metals
NMT 10ppm
Conforms
Atomic Absorption
Arsenic (As)
NMT 1ppm
Conforms
Atomic Absorption
Lead (Pb)
NMT 2ppm
Conforms
Atomic Absorption
Cadmium (Cd)
NMT 0.5ppm
Conforms
Atomic Absorption
Mercury(Hg)
NMT 0.2ppm
Conforms
Atomic Absorption
BHC
NMT 0.1ppm
Conforms
USP-GC
DDT
NMT 0.1ppm
Conforms
USP-GC
Acephate
NMT 0.2ppm
Conforms
USP-GC
Methamidophos
NMT 0.2ppm
Conforms
USP-GC
Parathion-ethyl
NMT 0.2ppm
Conforms
USP-GC
PCNB
NMT 0.1ppm
Conforms
USP-GC
Aflatoxins
NMT 0.2ppb
Absent
USP-HPLC
Sterilization Method
High temperature & pressure for a short time of 5~10 seconds
Microbiological Data
Total Plate Count < 10,000cfu/g
Conforms
GB 4789.2
Total Yeast & Mold < 1,000cfu/g
Conforms
GB 4789.15
E. Coli to be absent
Absent
GB 4789.3
Staphylococcus to be absent
Absent
GB 4789.10
Salmonella to be absent
Absent
GB 4789.4
Packing and Storage
Packed in fiber drum, LDPE bag inside. Net weight: 25kgs/drum.
Keep tightly sealed, store away from moisture, strong heat and sunlight.
Shelf Life
2 years if sealed and stored in the recommended conditions.
Skin Care
KINGHERBS' Grape Seed Extract OPCs is thought to prevent the skin from excessive UV radiation and free radicals. Considerable evidences indicate that OPCs protect and strengthen collagen and elastin of the skin, so that wrinkles are prevented and elasticity of the skin is kept. It has the efficacy of firming skin, crease resisting and freckle curing, to make skin smooth, exquisite and be full of flexibility.
The Grape Seed Extract has already become one of the top ten salable natural plant extract products and owns the reputation of "natural health care product" and "orally cosmetics" in America.
Preventing and Curing Cardiovascular Diseases
Researches have assured that OPCs helps strengthen capillaries, arteries and veins, which endows it several important clinical applications. OPCs appears to stabilize the walls of blood vessels, reduce inflammation, and generally support tissues containing collagen and elastin. OPCs not only can relieve or repair arteriosclerosis, but also relieve pain and oedema of venous insufficiency, through strengthening capillary and dropping permeability of capillary. Being effective against oedema that often follows injury or surgery, OPCs has been proved to effectively improve pathological changes in retina caused by diabetes, arteriosclerosis, inflammation and aging. For the same reason, it has been reported that OPCs can speed vision recovery after strong light, and improve vision acuity of those who suffer from eye fatigue due to long-time computer using.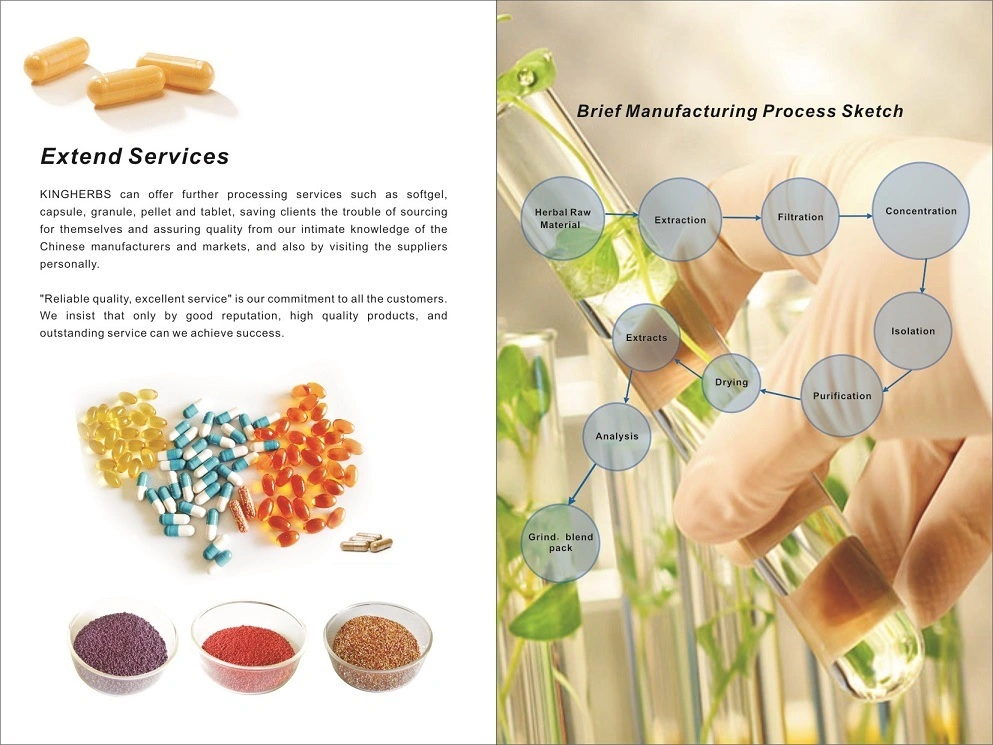 Characteristic:
- We can also customize orders as customer's requirements and specifications.
- KINGHERBS' is specialized in manufacturing and exporting different kinds of food industry related goods, such as Inulin (90% or 98%), Myricetin, Sea Buckthorn Oil, Green Coffee Bean Extract Total Chlorogenic Acids, Fenugreek Seed Extract Furostanol Saponins 50% etc.
- With the effective exporting system and prompt reaction, we ensure that we can transfer the shipping documents and deliver our cargos on time.

KINGHERBS LIMITED