Pure Bamboo Leaf Extract,Bamboo Extract,Organic Powder
Pure Bamboo Leaf Extract,Bamboo Extract,Organic Powder
1. Strengthen the immune system
2. Increase the meat's safety, improve it's color
3. Used in the beverage as the favor, anti-oxidant
4. Has the effect of anti-bacteria. anti-virus
5. Protects the blood vessel of brain and heart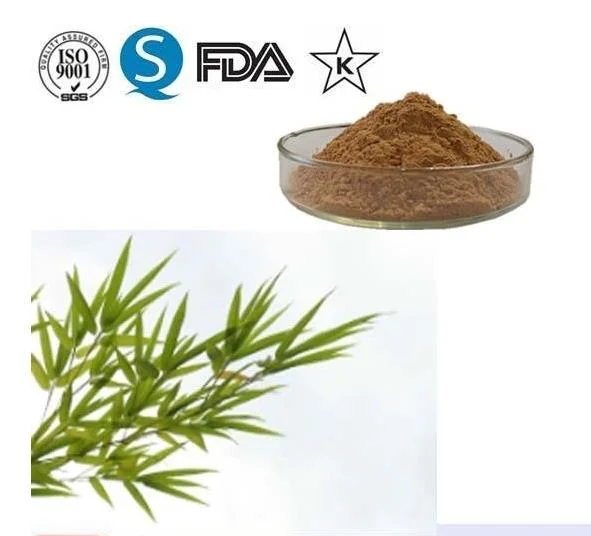 Manufacturer sales Bamboo Leaf extract
Bamboo Leaf Extract

Supplier

Tianjin Omini Technology Co.,Ltd.

Latin Name

Phyllostachys Pubescens

Appearance

Brown yellow powder

Part of Used

Seed and Stem

Active Ingredient

Flavone and Silica

ExtractionType

Solvent Extraction

Specification

Flavones 20%, 40%, 50%;

Silica 50%, 60%,70%

4:1-20:1

Grade

Pharmaceutical&Food

Test Method

UV / TLC

Storage

Store in cool & dry place. Keep away from strong light and heat

Package

1kg/bag&25kg/drum&customization

Shelf life

Two years under well storage situation
Bamboo leaf extract Caulis Bambusae flavonoids Bamboo leaf has a long history of food and medical application in China,and has recently been listed by Ministry of Health PRC into the list of natural plants with dual-purposes as food and drug.According to the related research work,effective ingredients of bamboo leaf extract include flavone,phenolic acid,lactone,polyose,amino acid,microelements,etc,with enhanced effects of anti-radical and blood vessel disease,protecting liver,expansion of blood capillary, smoothing microcirculation,improving retentive faculty,improving sleep quality,anti-cancer and skin beautifcation.
1. bamboo leaf extract powder can strengthen the immune system, anti-fatigue.
2. bamboo leaf extract powder can increase the meat's safety, improve it's color and keep the water.