Organic Moringa Oleifera Leaf Extract Powder,Moringa Extract Powder
High Quality Organic Moringa Oleifera Leaf Powder Extract for sale
Description :
Product Name: Moringa Leaf Powder/Moringa Leaf Powder Extract
Latin name: Moringa oleifera Lam.
Active Ingredient: Vatamine
Specification: 10:1,20:1
Source: Moringa
Extraction Part: Leaf
Appearance: Green Fine powder
1. Applied in health product field
2. Applied in pharmaceutical field
1. With the function of anti-depression and sedation, it has an effect on the nervous system;
2. With the function of increasing the natural defenses ability of the body, it is great for boosting the immune systemthus preventing colds.
3. It can provide nourishment to the eyes and the brain.
4. It has the function of resisting arrhythmia, lowering pressure, falling blood sugar and protecting the cardiovascular system function.
Flow of extract:
| | |
| --- | --- |
| Name | Moringa P.E |
| Botanical Source | Moringa Oleifera Lam |
| Maker Compounds | flavons |
| Test Method | TLC |
| Color | Green Powder |
| Part Used | Leaf |
| Appearance | Fine Powder |
| Ash Content | ≤5% |
| Extract solvent | Ethanol Or Water |
| Drying Method | Spray Dying |
| Particle Size | NLT100%Through 80 mesh |
| Loss on Drying | ≤ 5.0% |
| Assay | 10:1 |
| Arsenic | ≤2ppm |
| Lead | ≤2ppm |
| Total Plate Count | ≤1000cfu/g |
| Total Yeast & Mold | ≤100cfu/g |

1.Packaging: 25kgs/drum, double-layers plastic bags inside or customized
2.Storage: Store in a well-closed container away from moisture strong, direct light/heat.
3.Shelf Life: 2 years if sealed and store away from direct sun light.
Organic Moringa Oleifera Leaf Extract Powder,Moringa Extract Powder
Product Name :

organic moringa oleifera leaf extract Powder

Latin Name:

Moringa oleifera

Specification:

5:1 10:1 20:1

Appearance

Fine Green Powder

Brand :

OMINI-TLS

Test Method:

TLC

Part of Used

Leaf
Product Description
Moringa(Moringa oleifera Lam.) is tropical deciduous Perennial trees, height can reach up to 10 meters. The tree is native to India but has been planted around the world.
Moringa contains balanced and rich nutrients, The leaves contain all essential amino acids and are rich in protein, vitamin A, vitamin B, vitamin C, and minerals.
It is one of the richest sources of essential nutrients often lacking in people's diets.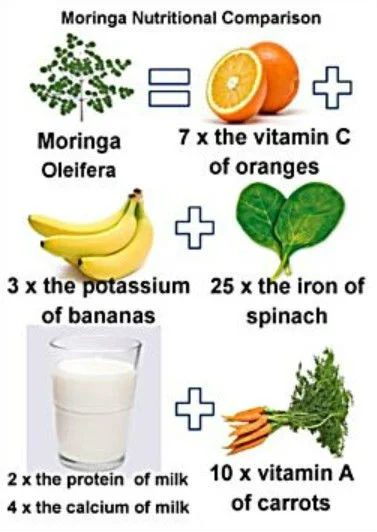 Products picture :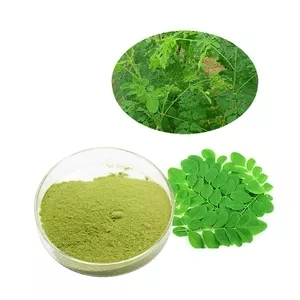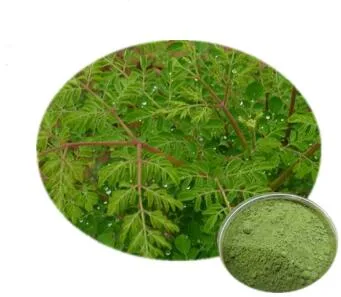 1. It inhibits the growth of gram-positive and gram-negative bacteria.
2. In high concentration it inhibits the growth of fungus.
3. It acts as potent antitubercular and used to cure liver diseases.
4.It stimulates the sympathetic nerve endings.
5.It accerlates the heart beats and constritic the blood vessels.
6.It inhibits the tone and movements of involuntary movements of the gastrointestinal tract.
1. As raw materials of drugs for anti-bacterial, anti-depressants, anti- tumor and sedation, it is widely used in
2.Applied in health product field , it can be used as the raw materials of health care product to enhance the immunity of human body;
3.As dietary supplements increased therapeutic function, it is widely used in fields of dietary supplement.
4.Applied in comestic field, as natural raw material of andneutral detergent, it can be added in hair shampo.
1. Any inquiries will be replied within 12 hours.
2. Dedication to quality, supply & service.
3. Strictly on selecting raw materials.
4. OEM/ODM Available.
5. Reasonable & competitive price, fast lead time.
6. Sample is available for your evaluation & Formulation development.