Product Description

Product Description

American ginseng (Panax quinquefolius) is a perennial herb of the Araliaceae ginseng genus. It is native to Greater Quebec in Canada and Wisconsin in the United States. It is also cultivated in Huairou and Changbai Mountains in China. The method of administration is divided into boiled, stewed, steamed, sliced and ground into a fine powder. As a health-care medicinal material, American ginseng can promote serum protein synthesis, bone marrow protein synthesis, organ protein synthesis, etc., improve the body's immunity, inhibit the growth of cancer cells, and effectively fight cancer. The saponins in American ginseng can effectively strengthen the central nervous system, achieve the effects of calming mind, eliminating fatigue, and enhancing memory. It can be suitable for symptoms such as insomnia, memory decline and Alzheimer's. American ginseng can lower blood sugar, regulate insulin secretion, promote sugar metabolism and fat metabolism, and has a certain auxiliary effect on the treatment of diabetes. It can also regulate blood pressure, effectively reduce temporary and permanent blood pressure, and help the recovery of hypertension, arrhythmia, coronary heart disease, acute myocardial infarction, cerebral thrombosis and other diseases. Long-term administration of American ginseng can reduce blood coagulation, inhibit platelet aggregation, resist atherosclerosis, promote the growth of red blood cells, and increase hemoglobin.

Function

Improving cardiovascular health, mainly reflected in improving the function of cardiac muscle, heart rate adjustment, preventing shock and atherosclerosis.

Enhancing health, and mainly reflected in anti-anoxia and anti-fatigue, high temperature and cold resistance, starvation and thirsty-resting, strengthening immunity and improving sub-health state.

Promoting hematopoietic ability and improve the blood dynamic.

Reducing blood glucose and treating diabetes.

Application

Health Care Products, Food, Daily Necessities, Cosmetics, Functional Drink.

Application Form

Lotion, Paste, Tablet, Capsule, Granules.

Quality

Control

Authenticity tests.

Control of pesticides residues.

Total saponin content difference control.

Solvent residue control.

Product Advantages

Pesticide residues contents meet international standards: USP<561>, EC396.

Varied specifications, accepting product customization.

Quality assurance and control system:

strictly implement documented procedures and the prevention management, and determinedly ensure quality.

Technical advantages:

professional exclusive product identification techniques Info Share.

Product Specification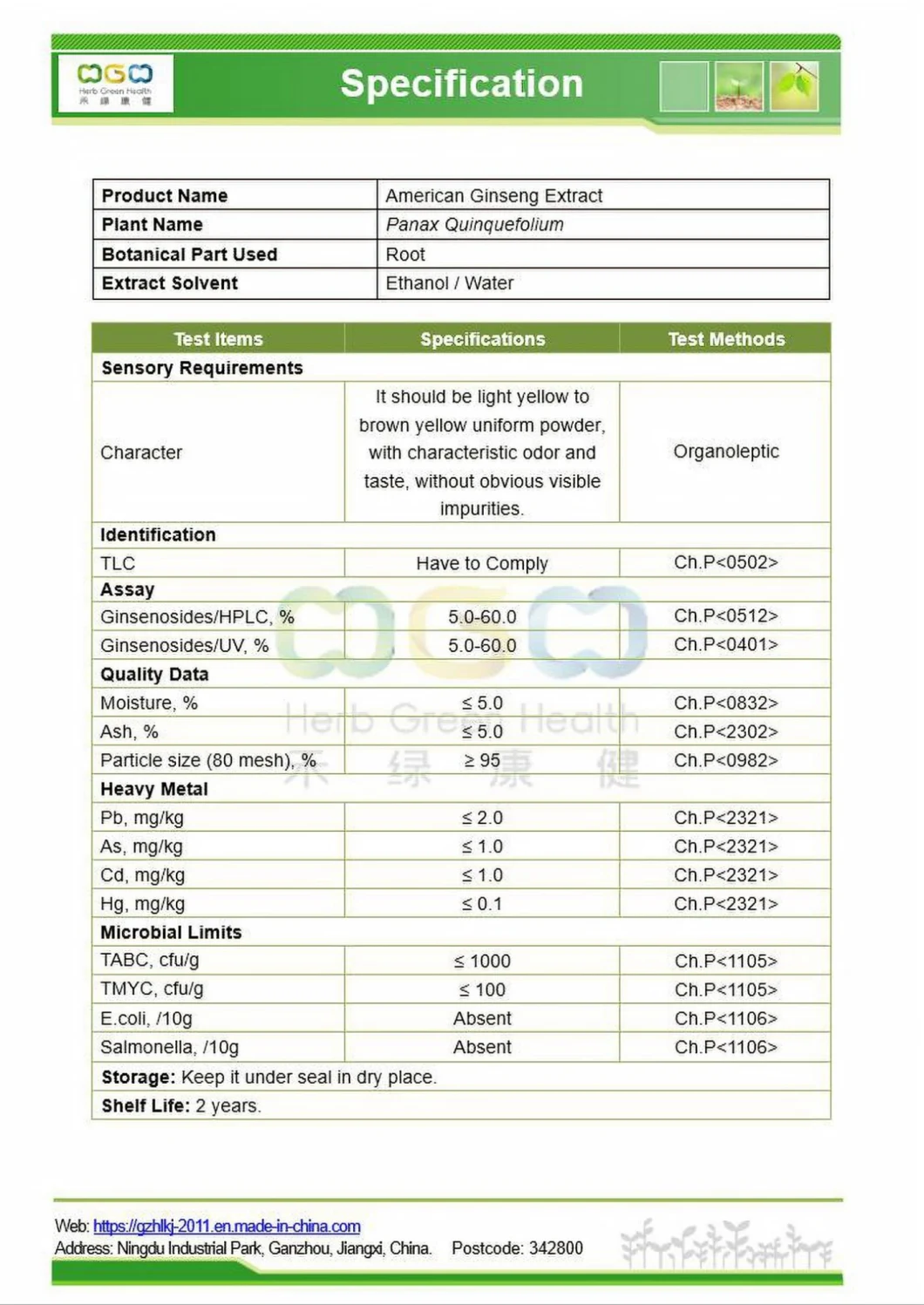 Why us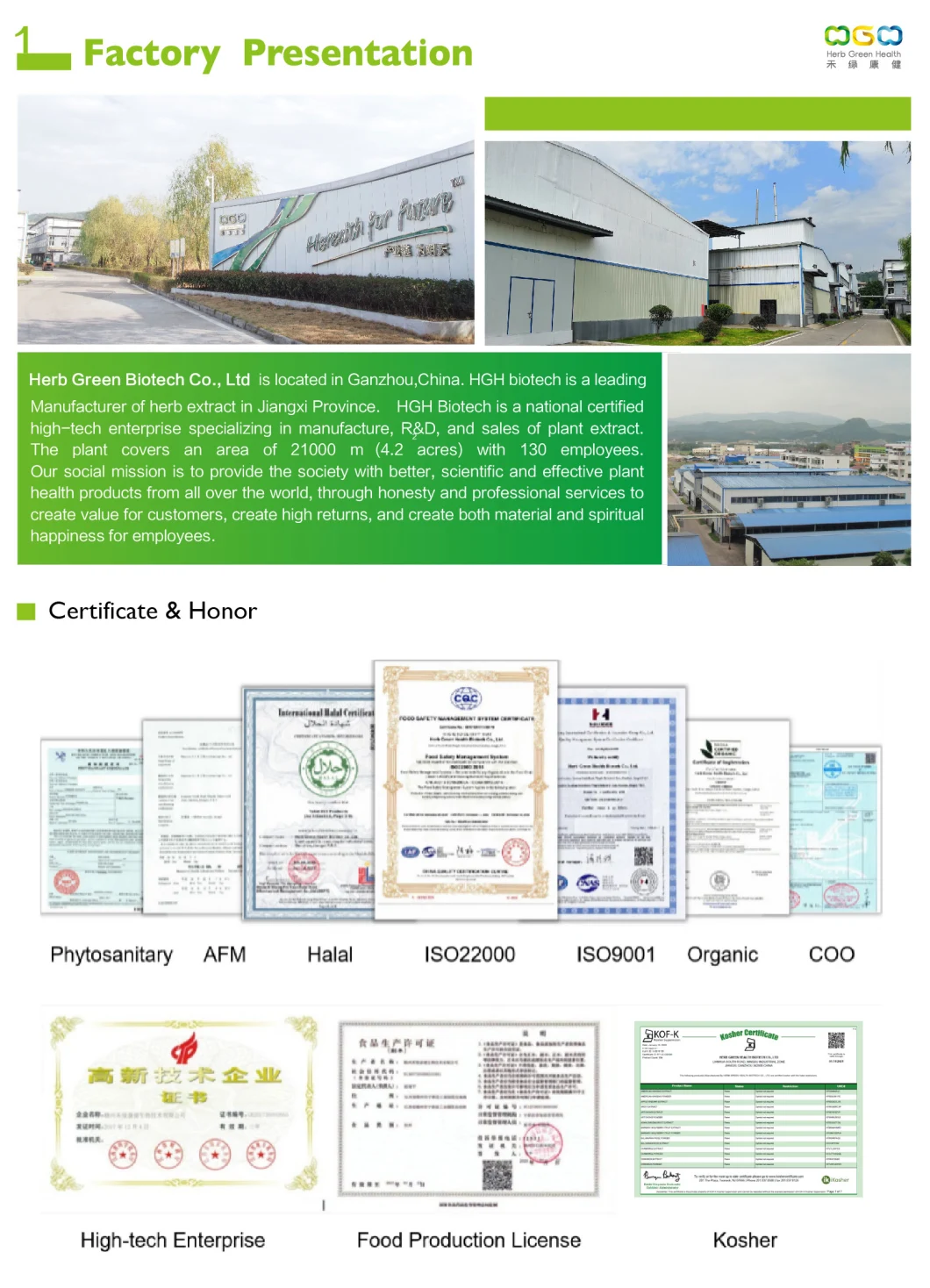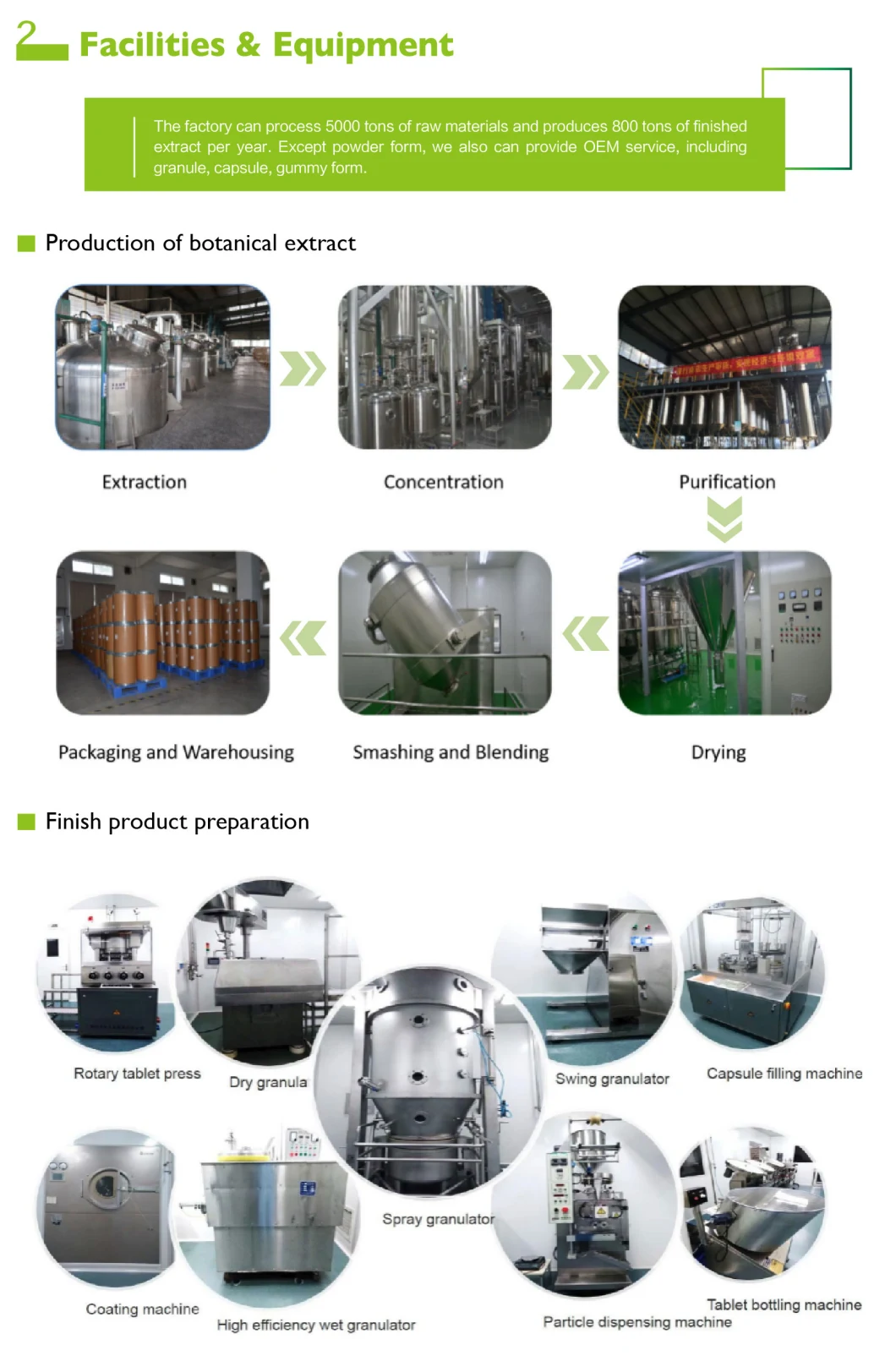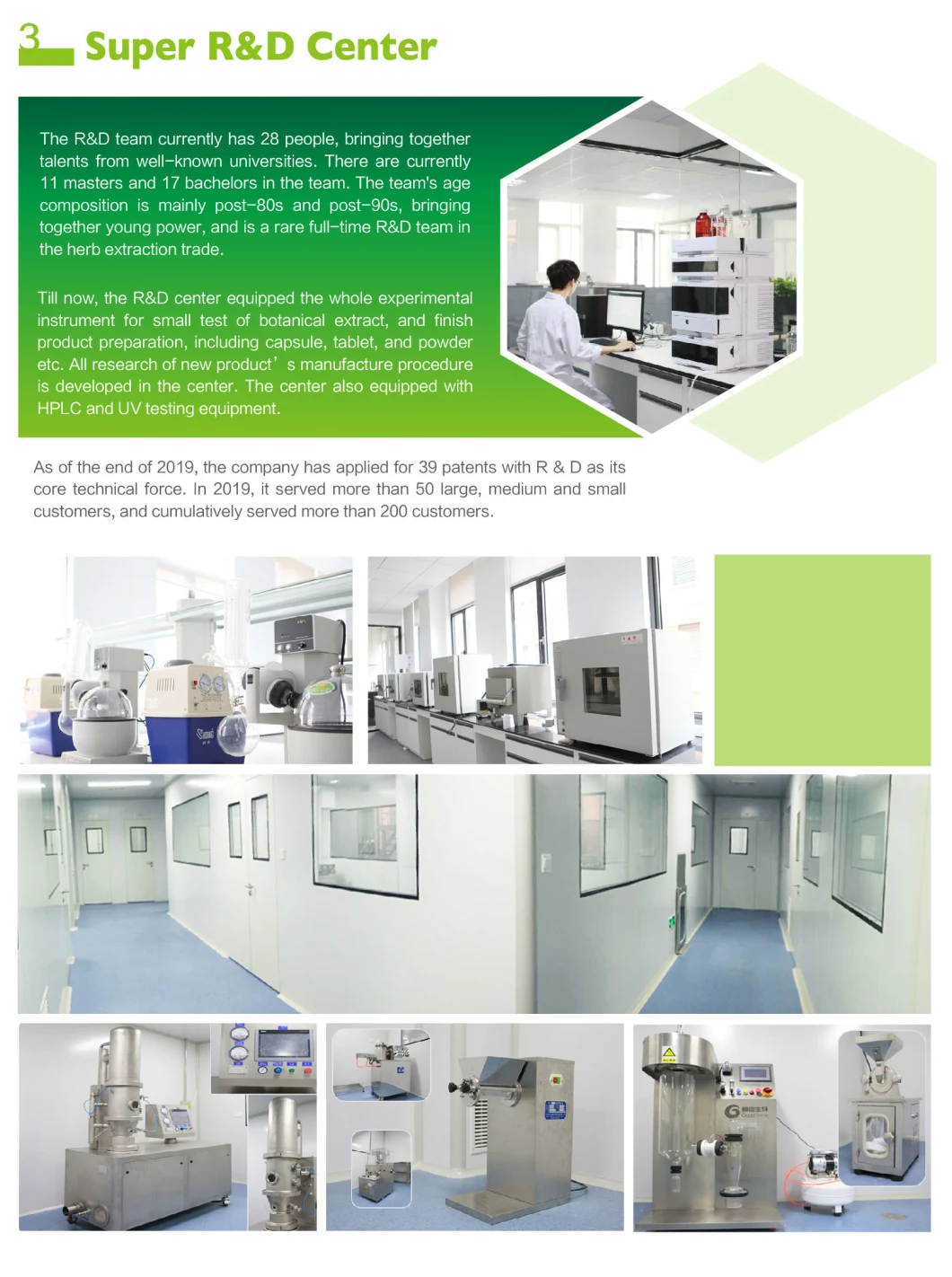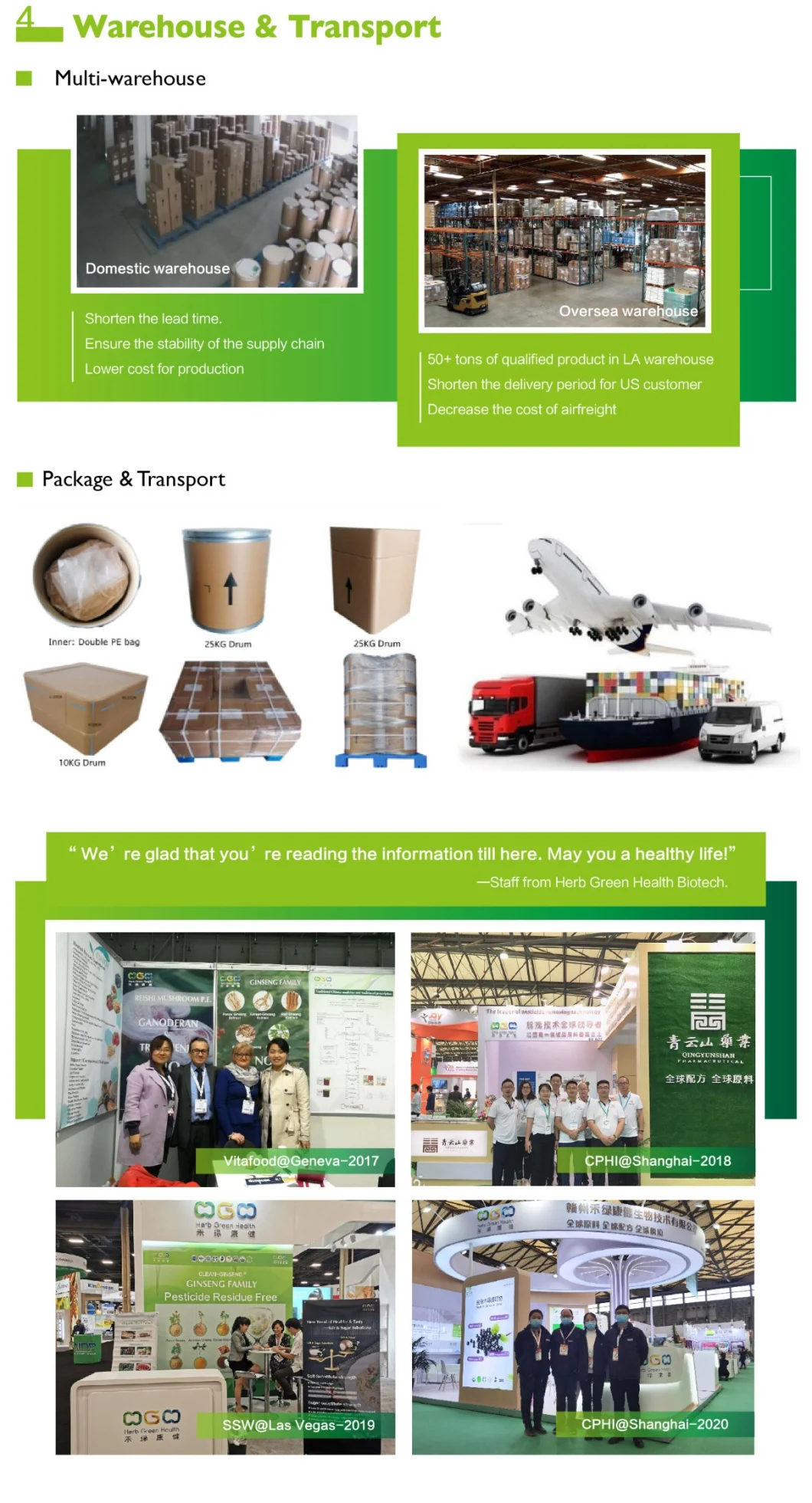 Other recommendation

Product

Specification

Organic

Polysaccharide >30%/UV,Triterpene>2%/UV

Spray drying powder

Ginsenosides: 1-10% HPLC

Eleutherosides (B+E)>0.8% HPLC

Polysaccharide >20% UV

Polysaccharide >30%/UV

Polysaccharide >30%/UV

Polusaccharide>20%

Spray drying powder

Polysaccharide >30%/UV

Total acid>5%

Powder

Ginseng

45% HPLC/ 80% UV; Ginsenosides 10-80% UV

Ginsenosides 5-60% HPLC; Polysaccharide 20% UV

Eleutherosides (B+E)>0.8%, 1.2% HPLC

Ginsenosides 1-20% HPLC, Water soluble.

Ginsenosides 5-80% HPLC

Berry

5:1,flavone3-5%,anthocyanin>10%

Polysaccharide >20% UV

Spray drying powder

Anthocyanins >25% HPLC

Flavone 0.1-3%

anthocyanin>25%

Spray drying powder

Spray drying powder

Spray drying powder

Spray drying powder

Spray drying powder

Mushroom

Polysaccharide10-30% UV; Triterpene 1-30% HPLC

Polysaccharide >30%/UV,Triterpene>2%/UV

Polysaccharide >30%/UV

Polysaccharide>30%

Other in stock

Polyphenol>30%

Schisandrins 2-10%; Schisandrin A 1-4%; Schisandrin B 0.5-2%

USP40; CP2015; 24%/6%/<5ppm, water soluble

Glucosinolate 0.5-2%; Total amino acid> 4%

Oleuropein15-40%

Gingerol 1-5%

Eurycomanone 0.3-2% HPLC
FAQ

Q1: What's the difference between herb extract and powder?
A: The extract is a concentrated powder form of raw material. The herb extract's procedure flow is wash, extraction, concentration, purification, drying, grinding, sieving, package. The herb powder is just a powder form of the herb. The procedure flow is wash, drying, grinding, sieving, package.
Q2: What's the extract solvent used in the procedure?
A: The extract solvent is always depending on the active ingredient in the raw material, regulation and customers' requirement. The solvents mostly used for extraction are water and ethanol. Even the solvent other than water used in the procedure, the solvent residue in the extract product also can conform with ICH Q3CR5.
Q3: Is there any other ingredient used in the product?
A: It depends. For product which is hard to be dried, we need to add some maltodextrin into the extraction solution before drying. The maltodextrin we used is food-class carrier, from non-GMO corn. We can share customer with the ingredient composition table.
Q4: How to make sure the quality of the product?
A: Firstly, every batch finish product must be tested and qualified before delivery. We can send a specification sheet or CoA for confirmation. The HPLC chromatography graph also can be provided. Secondly, we can provide pre-ship sample to customer for quality confirmation.
Q5: Can you develop a new product for us?
A: Yes, we can. We have independent R&D dept, who is able to update the procedure parameters of our main products and develop the procedure of new product. For more information, please contact us directly.
Q6: Can you offer this in capsules or tablets as well?
A: Yes, we have related equipment for preparation of finish product, like tablet, capsule and granule. Kindly contact with us for details.
Q7: What is the MOQ?
A: For most of the products we already have in stock, the MOQ is 1kg. If the product is a new specification and need to be produced from raw material, the MOQ depends.
Q8: Is there any discount?
A: Yes, for larger quantity or better payment period, we can support with better price.
Q9: How about delivery time?
A: For most products, the product can be sent out from factory in 5days. If we don't have inventory, the product need to produced from raw material, the ordinary period is 20-25days.
Q10: How do you treat with quality complaint?
A: We will always be responsible for the quality of our products. If there's a complaint, we will first assist customers to solve the most direct needs.
Secondly, we have SOP for quality complaint. QA will investigate the problem, after that we'll give customer a formal feedback about the cause of the quality issue and related precautions for this problem
.