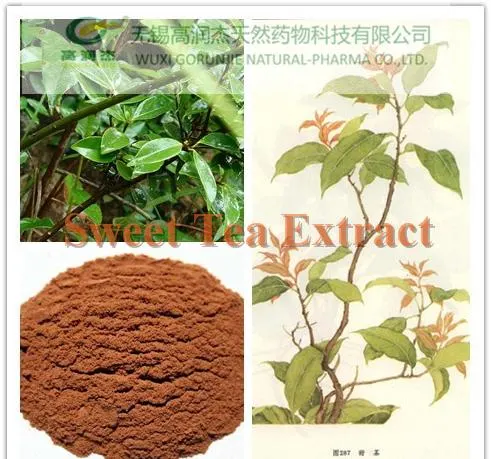 Introduction:
1. Sweet Tea is also known as Chinese Blackberry Tea (Rubus Suavissimus S. Lee).
This sweet tea contains a natural sweetener, known as Rubusoside.
Rubusoside is low in calories making this tea an ideal drink for the calorie-conscious consumer.
2. Rubusoside is commonly known as either Sweet Tea Extract or Chinese Blackberry Extract. Our Rubososide is extracted from the leaves of the Chinese Blackberry Bush (Rubus Suavissimus S. Lee). The Extract is 200~300 times as sweet as cane sugar and contains over 70% Rubusoside. This Extract is processed into a white powder, which is very soluble in water and can be easily mixed with food without changing the color of the processed food.
3. Effect: Rubusoside is a Diterpene Glycoside composed of steviol and glucoside, low energy but high sweet, 300 times than sugar, help to treatment for fat caused by overdose of sugar and other disease caused from this, such as high blood pressure, diabetes, blood vessel problems, kidney weak, etc.
Function:
1. Tonify the kidney
2. Decrease blood pressure
3. Cure diabetes
4. Removing the phlegm and Relieve a cough
5. Treatment for fat
Storage: Store in cool & dry place, Keep away from strong light and heat.
Shelf Life: 2 years if sealed and store away from direct sun light.
About us:
We are a leading manufacturer of herbal extracts and finished supplement capsules ( Vegetarian from HPMC) in China, we have produced many capsules supplements for many companies in USA and EU since 2005. We ship various kinds of extracts capsules to our clients in USA, Denmark, Greece, UK, Norway, France, Australia, Hungary...
Regarding our final supplements, your can order:
ANY SIZE BOTTLE COUNT AVAILABLE, 60 capsules, 100 capsules, 120 capsules or whichever you prefer
ANY SIZE ORDER AVAILABLE, from 100 bottles to 50, 000 bottles
BULK CAPSULES AVAILABLE
IMMEDIATE DELIVERY! (for small batch, big quantity order need 2~4 weeks, depends on your quantity)
Best quality, Competitive price, Excellent service
Wuxi Gorunjie Natural-Pharma Co., Ltd.
Add: #99, Furong MID-3rd Road, Wuxi, China.
Tel: 86-510-8262-0959 Mob: 86-150-5210-9975