| | |
| --- | --- |
| Product Name | Gynostemma extract |
| Active Ingredients | Gypenoside |
| Specification | 98% |
| Test Method | UV |
| Appearance | Light brown powder |
| Used Part | Leaves |

Gynostemma pentaphyllum, also called jiaogulan, literally "stranded blue plant", is a dioecious, herbaceous climbing vine of the family Cucurbitaceae (cucumber or gourd family) indigenous to the southern reaches of China, northern Vietnam, southern Korea, and Japan.
Jiaogulan is best known as an herbal medicine reputed to have powerful antioxidant and adaptogenic effects purported to increase longevity. Pharmacological research has indicated a number of therapeutic qualities of jiaogulan, such as lowering cholesterol and high blood pressure, and strengthening immunity.
Function

1. Heart: Gynostemma oxygen free radicals can. To the heart from damage.
2. Vascular: Gynostemma water extract, can aortic smooth muscle relaxation, lower blood pressure, increased coronary and cerebral blood flow.
3. Brain: cerebral ischemia Gynostemma has a good protective effect, could significantly increase thebrain cells to acute hypoxia tolerance.
4. Has strong anti atherosclerosis, lipid lowering effect, the current development of new drugs have this effect and more.
5. Enhance the capacity of the body immunity, anti-aging.

Application

1. Applied in the food field, it has become a new raw material which used in food and beverage industry;
2. Applied in the health product field;
3. Applied in the pharmaceutical field.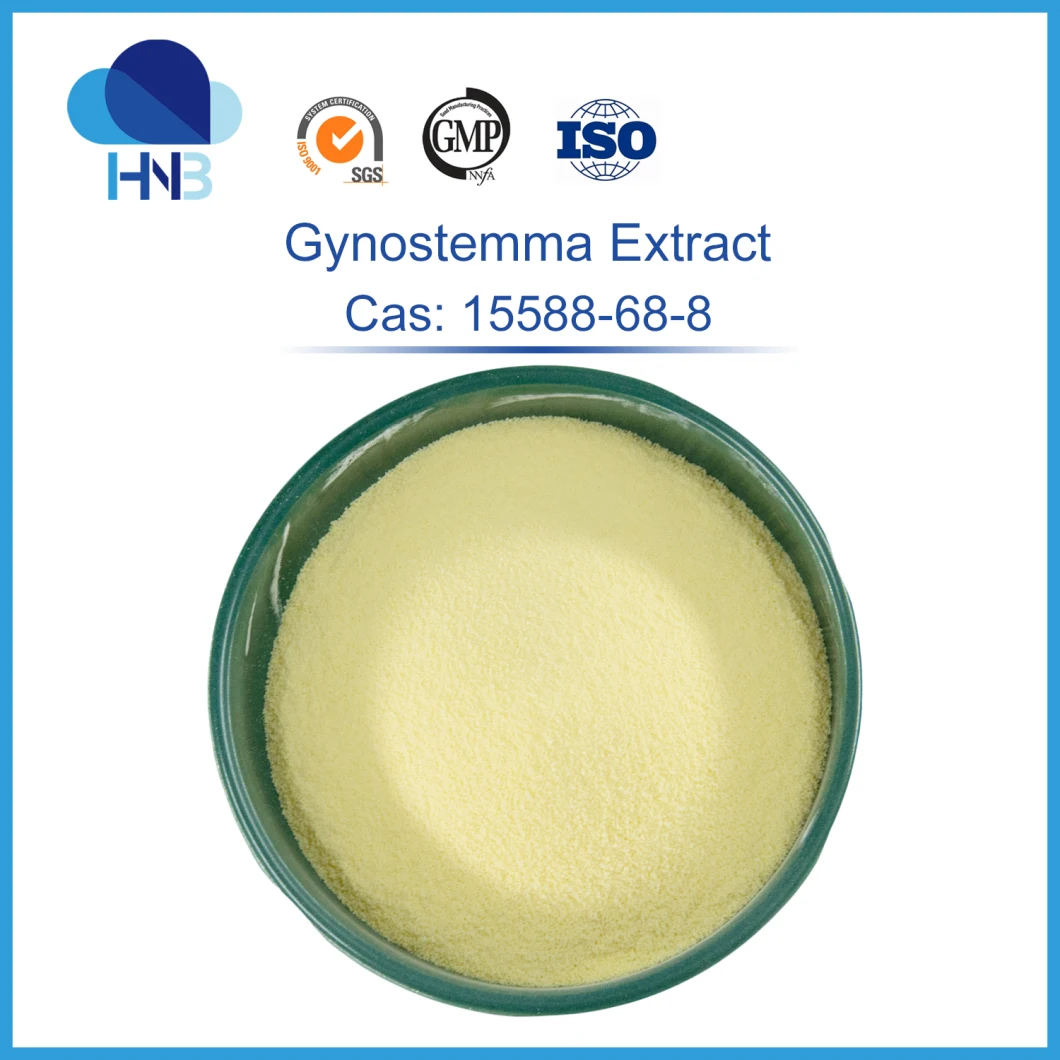 | | | |
| --- | --- | --- |
| Items | Standards | Results |
| Physical Analysis | | |
| Description | Brown Yellow Powder | Complies |
| Assay | Gypenoside 40% | 40.30% |
| Mesh Size | 100 % pass 80 mesh | Complies |
| Ash | ≤ 5.0% | 2.85% |
| Loss on Drying | ≤ 5.0% | 2.82% |
| Chemical Analysis | | |
| Heavy Metal | ≤ 10.0 mg/kg | Complies |
| Pb | ≤ 2.0 mg/kg | Complies |
| As | ≤ 1.0 mg/kg | Complies |
| Hg | ≤ 0.1 mg/kg | Complies |
| Microbiological Analysis | | |
| Residue of Pesticide | Negative | Negative |
| Total Plate Count | ≤ 1000cfu/g | Complies |
| Yeast&Mold | ≤ 100cfu/g | Complies |
| E.coil | Negative | Negative |
| Salmonella | Negative | Negative |